Children's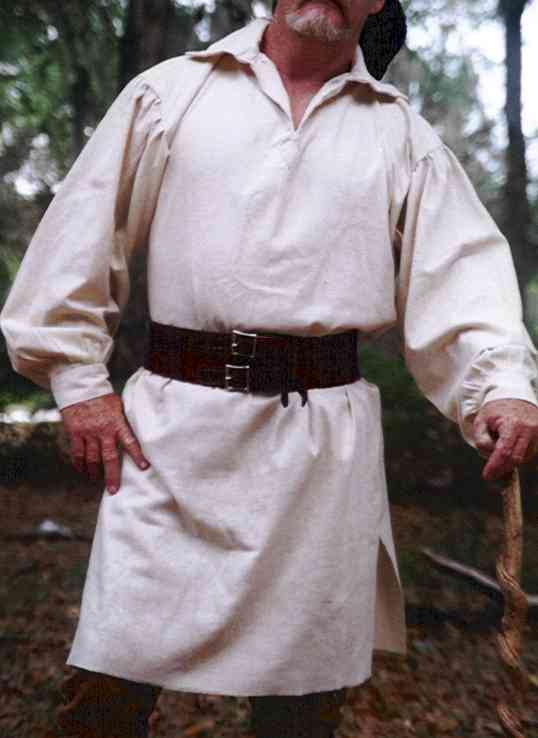 Man's knee length garment made from a rectangle of cloth. Common shirts were made from rough linen, muslin & cotton. Patterned fabric was also used. Gentlemen's shirts were made from finer linen or cotton with fuller sleeves and could be very ornate with pleating, ruffles or bobbin lace. See Historic Colonial French Dress by Johnson, Forbes & Delaney.
As with all of our fabrics, we have prewashed and dryed (preshrunk)our shirt fabric before we ever cut it out. Our shirts WILL NOT shrink when you wash them, or you get a full refund. All of our shirts seams are stitched, serged and then French seamed except the sleeve head which is stitched and then serged to prevent fraying. We hand stitch the collar closed. We use extra stitching at all stress points, and hand stitch a heart shaped reinforcment at the base of the neck slit as shown in Cloth & Costume by Tandy & Charles Hersh.
Our standard longhunter shirts are cut 40" long, have a fold down collar with button, a full body, full sleeves and ample side slits. We hem gentlemen's shirts, but on our longhunter shirts we leave the bottom unhemmed to fray out naturally. We use natural or walnut dyed bone buttons on cuffs and at the neck.
A note about our sizes: Our shirts are run larger than most! We don't skimp on fabric, so use your largest measurement (chest and/or tummy) as a guide. If you have a question about sizing, just give us a call.

..................................Small - up to 40" chest / tummy
..................................Medium - up to 44" chest / tummy
..................................Large - up to 48" chest / tummy
..................................X Large - up to 52" chest / tummy
..................................XX Large - up to 56" chest / tummy
Note: Prices shown below are for our standard longhunter shirts in sizes S,M,L. For size XL and XXL, add $5.00. Other options in style, length, collar, etc. are available. Please contact us with your specific needs. Add $5 for walnut dyed shirts.
Shirt Pricing
| Description | SKU # | Price |
| --- | --- | --- |
| Cotton (solid color, checks or prints) | LHS-001 | $40.00 |
| Osnaburg - Natural color 100% cotton | LHS-002 | $45.00 |
| Walnut hull dyed Osnaburg | LHS-003 | $50.00 |
| Fustian (Cotton/Linen blend) natural color | LHS-004 | $50.00 |
| 100% Linen | LHS-005 | $65.00 |
| Pull over Hunting shirt with cape | CHS-006 | add $10.00 |
| Wrap Shirt - order one size larger | WHS-007 | add $10.00 |
| Linen Gentlemen shirt | LGS-008 | $70.00 |
| Linen Ruffled Shirt | LRS-009 | $75.00 |
---


If you need something other than those listed above, please call or email us to discuss how we can help with your specific shirt needs. We would be delighted to sew for you.

All prices are subject to change or correction.