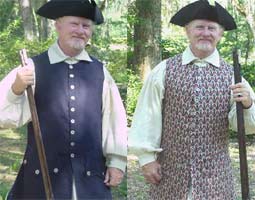 Waistcoat (La veste) an everyday garment made from linen, wool, canvas, brocade or even cut velvet. Striped or patterned, elaborate embroidered fabrics, as well as solid colors were used. The French and Indian period waistcoat fronts extend over the stomach and thighs. Many were laced in the back and had working pockets. (see pages 22-23, Historic Colonial French Dress by Mary Moyars Johnson, Judy Forbes and Kathy Delaney.) Rev. War period waistcoats were much shorter.
Lined Waistcoats, 1750's style with working pockets. Specify plain back or laced back.
WC-1750
Plain back - $95.00


Laced back - $99.00

Wool $125

Lined Waistcoats, 1770's style with working pockets. (These rarely had laced backs)
WC-1770

$90.00

Wool $115

Sleeved Waistcoats - Either time period lined with working pockets, solid back. Pewter buttons add $10 extra
SWC-1760
start at $165.00
When ordering a waistcoat please specify your neck, chest and tummy measurements, nape of neck down the spine to waist, nape of neck down spine to mid-thigh, as well as fabric and color preference. Click here for Additional photos.
We also make a variety of coats as described below. We do not keep a supply of these coats in stock, but custom sew them to your specific measurements.
Rain Coat - Brown Waxed Cotton (WHEN AVAILABLE), sleeveless Great Coat, with extra long cape, deep working pockets outside, 2 chest pockets inside, and 3/4 lining. This is made oversize to wear over your other clothes. The cape comes down about wrist length and you can tuck your gun up under it to "keep your powder dry" when hunting in inclement weather. I make these on a very limited basis up to chest size 48". Please call to discuss your needs. We require a 50% deposit to place order. Because these are labor intensive, delivery time depends on our order schedule.
LeRoy has one that he has worn regularly for over four years and it is still keeping him and his "powder" dry!
| | | |
| --- | --- | --- |
| Waxed Cotton Rain Coat | WCRC-1770 | start at $300 |
| | | |
| --- | --- | --- |
| Roger's Ranger Coat | RRC-1770 | Start at $300 |
GENTLEMEN'S FROCK COAT - We custom sew each 1750's or 1770's coat order. The coats are fully lined with deep working pockets. Covered buttons are an option at no additional cost. Fabrics depend on availability, but linen, fustian, wool, brocades, and tapestry may be used. Please call to discuss your fabric and color preferences. We will need the following measurements: neck, chest, largest part of tummy, nape of neck to waist, nape of neck to knee, shoulder width, arm length, bicept and wrist. All coats require a 50% deposit.
| | | |
| --- | --- | --- |
| Either 1750's or 1770's Gentlemen's coat | GC-1780 | start at $295 |
| Gentlemen's coat chest size 48" and up | XLGC-1781 | start at $325.00 |
Hunting Frock Coat - Open front, thigh length unlined jacket with double cape and LOTS of fringe. Off white cotton canvas, fustian or linen. We need your neck, chest, tummy and sleeve measurements. Chest sizes 48" and up add $15.00 to prices shown below.
| | | |
| --- | --- | --- |
| Cotton hunting frock | HFC1790 | $95.00 |
| Fustian hunting frock | HFF1791 | $95.00 |
| Linen hunting frock | HFL1793 | $115.00 |
Caps and Hats

<
| | | |
| --- | --- | --- |
| Reversible work caps; summer weight cap worn by working men. Cotton, fustian, or linen | WC-1776 | $20.00 |
| French Toques - Wool These are hand made for us by Denise. | FT-1776 | $35.00 |
| Monmouth Cap - Wool cap that are hand knitted by either Frances, Toni or Mary. Also available in home spun wool yarn (spun by Frances or Toni) for $10 extra. | MC-1776 | $30.00 |
---


All prices are subject to change or correction.