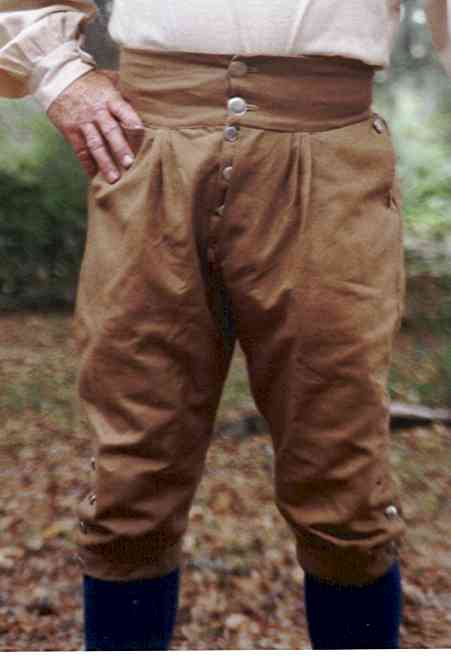 Click here for additional Photos.
French Fly Breeches
French Fly Breeches (les culasse): Popular from mid-1700's to 1770's. 18th century breeches were cut low with tapered legs ending 1" - 2" below the knee. The bottom of the leg could be adjusted with a tie or buttons on the side seam vents. Breeches were made from many different colors including green, blue, red, brown, gold, orange and even pillow ticking stripes. Our description & style taken from page 22 of Historic Colonial French Dress by Mary Moyars Johnson, Judy Forbes, & Kathy Delaney.
We take extra care in sewing our breeches by double and triple stitching (and then serging) all stress points including the side seams, crotch and fly area so you don't have to worry about your seams ripping out under normal wear. Our breeches have deep working side pockets, button cuffs, a 3" gusset at the back of waistband for easy size adjustment, and come with either horn or bone buttons. For pewter buttons add $5.00 to the prices shown below. We always prewash and dry (preshrink) the fabric using the hottest settings possible before we ever cut out them out. This extra step assures you that your item will not shrink when you wash it.
OUR STANDARD WAIST SIZING: (Note: Historically, 18th century men wore their breeches at the natural waist. However, my experience has been that if you are used to wearing your breeches lower, you will probably be more comfortable wearing these at that same location.)
Small (30-33"), Medium (34-37"), Large (38-41") are priced below.
For waist sizes XL (42-45")or XXL (46-49") add $5.00.
For custom sizing if you have longer (shorter) legs, heavier(or smaller) thighs or calves, you may want to include the following measurements: Waist (OR WHERE YOU ACTUALLY WEAR YOUR WAISTBAND), a measurement down the OUTSIDE of your leg to just below the kneecap where the kneeband goes, a measurement around the fullest part of your thigh, and/or a measurement around your leg just below the knee for the kneeband. Using these measurements, we can customize our pattern to better fit your proportions.
Pricing
| Description | SKU # | Price |
| --- | --- | --- |
| Cotton duck | FFKB-001 | $85.00 |
| Fustian (linen/cotton) | FFKB-002 | $85.00 |
| Linen | FFKB-003 | $90.00 |
| Wool lined w/cotton | FFKB-004 | $100.00 |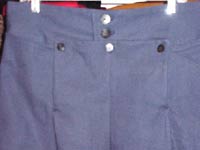 Drop Front Breeches. Instead of vertical front, "the front opening was formed by a flap or 'fall' of cloth buttoned to the waistband with three buttons across the front." [Cf Everyday Dress of Rural America, 1783-1809, by Merideth Wright.]
Our Drop Front Breeches are made with the same care as mentioned above. They also have deep working pockets, back gusset, and button leg vent and cuff. Buttons are horn or bone. For pewter buttons add $5.00.